Spring Exhibition at Emile Gruppe Gallery! Reception March 9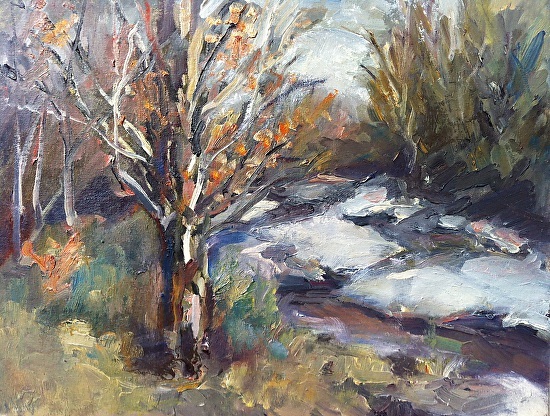 "About to Fall" Oil on panel (11 x 14)
OPENING RECEPTION & SPRING EXHIBITION!
Emile Gruppe Gallery
SUNDAY, MARCH 9th, 2:00-4:00 p.m.

Showing Sunday, March 6th thru April 20th, 2014
Join the artists for a talk on Sunday, April 6th 2-3:00 p.m.
The Informed Palette: Three Personal Journeys with Color

"Landscape Perspectives", an exhibit of three Vermont landscape artists will be opening at the Emile Gruppe Gallery in Jericho, Vermont on Friday, March 6th with an opening reception on Sunday, March 9th. Over thirty works by Vermont artists Julie A. Davis, Fiona Fenwick Cooper and Jane Neroni will be on view.
The Emile Gruppe Gallery is located in a renovated 1860s English Sheep barn on the farmstead of the daughter of one of New England's most renown landscape painters, Emile Gruppe. Owned by Emilie Gruppe Alexander, and her husband Stuart, the gallery offers works by Emile Gruppe and also promotes local New England artists through exhibitions and sales.
Emile Gruppe Gallery
22 Barber Farm Road
Jericho, Vermont 05465
Gallery Hours: Thursday –Sunday (10-3:00 p.m.) or by appointment. For more info visit Emile Gruppe Gallery.com or call Emile at 899-3211.
A collection of original oil paintings are also on view in my studio and gallery space by appointment. Paintings are generally priced by size and are the same for both gallery and studio sales and range from $150-$3500. For more information call 802-343-2539 or email julie-davis@earthlink.net.